MAKOplasty: Robot-Assisted Partial Knee Resurfacing
A New Option for Knee Patients with Knee Pain
In partnership with Baptist Health, Jacksonville Orthopaedic Institute provides a minimally-invasive Partial Knee Resurfacing, called MAKOplasty. JOI surgeons have performed more of these surgical procedures than any other provider in the region. There is also an option to do a Mako Total Knee Replacement.
How does it work?
The surgeon uses a highly-advanced robotic arm system to precisely remove and repair only the damaged portion of the knee. A small implant is positioned in the knee while preserving healthy bone, tissue and cartilage while alleviating knee pain and restoring natural function. Recovery time is about six weeks-half the time of a total knee replacement.
What are the Benefits of MAKOplasty Knee Resurfacing?
Accelerated recovery, and a shorter hospital stay
Smaller incision (less scarring)
Better knee function and range of motion
A more natural-feeling knee
Physicians certified in performing "MAKOplasty: Robot-assisted Partial Knee Resurfacing"
If you don't have a doctor preference Request An Appointment Here » or call JOI-2000.
Specialties: Anterior Hip Replacement, Hip, Joint Replacement, Knee, Knee Replacement, Mako Robot Assisted Hip Joint Replacement, MAKO Robot-Assisted Partial Knee Resurfacing, Sports Medicine
Location(s): Baptist South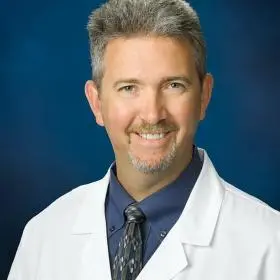 Specialties: Hip, Mako Robot Assisted Hip Joint Replacement, Hip Replacement, Joint Replacement, Knee, MAKO Robot-Assisted Partial Knee Resurfacing, Shoulder, Sports Medicine, Pediatrics for 15 years or older
Location(s): San Marco
Specialties: Hip Preservation and Reconstruction Surgery, Shoulder Surgery, Knee Surgery, Sports Medicine, MAKO Robot-Assisted Joint Replacement, Direct Anterior Approach Hip Replacement
Location(s): San Marco
Specialties: Hip, Joint Replacement, Knee, Mako Robot Assisted Hip Joint Replacement, MAKO Robot-Assisted Partial Knee Resurfacing, Sports Medicine
Location(s): San Marco
Specialties: Anterior Hip Replacement, Fracture Treatment/Fixation, Hip, Hip and Knee Arthroplasty, Joint Replacement, Knee, Knee Replacement, Mako Robot Assisted Hip Joint Replacement, MAKO Robot-Assisted Partial Knee Resurfacing, Shoulder, Sports Medicine
Location(s): San Marco
Specialties: Fracture Treatment/Fixation, Joint Replacement, Knee, Knee Arthroscopy, Knee Replacement, MAKO Robot-Assisted Partial Knee Resurfacing, Shoulder, Shoulder Replacement, Sports Medicine
Location(s): San Marco